APPEAL: "Buy a bag of cement" for Gaza 12Apr10
April 15, 2010
Cementing Our Solidarity with the People of Gaza
Free Gaza Team -Â  12 April 2010
Normally we don't ask for donations for specific items, since all donations to our tax-exempt accounts in Cyprus or the U.S. are used to buy the boats or for operating costs  However, we are sending out this special appeal to the hundreds of you who have said, "But can't I contribute to something specific, something that I can be proud to buy and know will help the people of Gaza?" Therefore, we have set up our PayPal account at http://www.freegaza.org/en/donate to accept donations for cement and book bags. In the message section on PayPal, tell us you want the money to purchase cement or book bags. Or you can wire money into the Irish account designated below this announcement. We will use your donation for cement for reconstruction or book bags for the children if you designate it's for them.
The Free Gaza Movement calls on communities, schools, hospitals, trade unions and families across Ireland and the world to sponsor bags of cement and school supplies to send to Gaza. They will be loaded onto our Irish cargo ship, the MV Rachel Corrie, as part of an international flotilla of ships sailing to Gaza in May.
Just €5 will pay for a bag of cement to help the people of Gaza rebuild, supporting the Palestinian people and their refusal to be broken despite a devastating siege and Occupation. €5 for a bag of cement (or €10 for two bags, €20 for four bags, €100 for 20 bags) or €10 for a school/sports bag.
Israel's blockade of Gaza is in its third year, and virtually no reconstruction materials have been allowed into the Gaza Strip, which is still in ruins after Israel's massive onslaught in Dec/Jan 2009 which killed over 1,400 Palestinians, almost 400 of them children.
At least 11,000 houses, 105 factories, 20 hospitals and clinics, 159 schools, universities, playschools and technical institutions were either damaged or destroyed and are still in ruins. Over 20,000 people were driven from their homes – many still living in tents.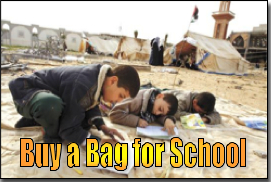 Israel has also banned books, paper, pens and school supplies, and we plan to deliver them along with messages of solidarity to the children of Gaza. For €10, you can sponsor  a school bag filled with school supplies to support children struggling to study under siege.
John Ging, the Director of the United Nations Relief and Works Agency told reporters in March 2010:    'I have no cement or steel or iron.  We can't get in one bag of cement, one pane of glass… to actually begin that reconstruction.'
This May, The Free Gaza Movement is answering the call for help by sending a flotilla of boats carrying building supplies, humanitarian relief, and human rights defenders from across the world to Gaza.
The flotilla is made up of a coalition of organisations- from Turkey, Greece, Malaysia, Belgium, Sweden, Indonesia and Ireland, and will set sail in mid May to challenge the illegality of the siege of Gaza and devastating occupation of Palestine. Help us support the Palestinians' right to rebulid their lives.
.
You can wire your donations to the Bank of Ireland, 32 south Mall, Cork, Republic of Ireland, Acct #41818255, Sort Code 902768, IBAN #, IE58BOFI90276841818255. BIC# BOFIIE2D

If you have questions, please email:Â  sahara78@hotmail.co.uk or freegazaireland@gmail.comThis e-mail address is being protected from spambots. You need JavaScript enabled to view it This e-mail address is being protected from spambots. You need JavaScript enabled to view it
If you liked this article, please consider making a donation to Australians for Palestine by clicking on the PayPal link
Thank You.