Inside the Middle East Egyptian filmmaker boycotts festival in Israel protest 18Sep09
September 19, 2009
by Main Mackay  – CNN  -  18 September 2009
LONDON, England (CNN) — An Egyptian film producer has pulled his film out of the Toronto film festival in protest over the event's presentation of a series of films spotlighting the Israeli city, Tel Aviv.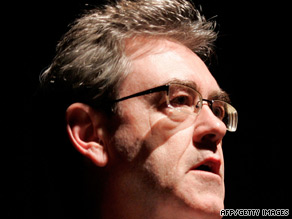 Toronto International Film Festival Director, Piers Handling. Handling said, "We welcome the discussion that is being prompted by our series."
Sherif Mandour removed feature film, "Heliopolis" from the festival to boycott the Toronto International Film Festival's (TIFF) decision to present 10 films focused on Tel Aviv in its new City-to-City program.
"I cannot participate in any kind of celebration of Israel, especially in this moment. It is against my beliefs," Mandour, told CNN over the phone from Amsterdam. "The blood in Gaza is still warm."
In an open letter to festival organizers withdrawing his film, Mandour wrote, "Such a celebration, especially in light of the recent Israeli attacks on Gaza, not only ignores Palestinian suffering, but also helps to whitewash Israel's continued violations of international law and refuse of [sic] Arab Peace Treaty."
Although Ahmad Abdallah, the film's director said he shares Mandour's sentiments, he did not want to remove the film from the festival. However, Mandour entered the film and had the power to pull it.
Mandour claims the film festival's City-to-City program, which celebrates a foreign city through film, is part of a campaign of propaganda by the Israeli government.
"Of course it is propaganda. They want to change the image of Israel from soldiers and blood using art," he said.
Mandour is referring the 10-month ad campaign known as "Brand Israel" launched by Israeli Consul General to Toronto, Amir Gissin, to improve Israel's image abroad.
The $1 million campaign includes "Brand Israel" logos and advertising put up across Toronto in bus shelters, on billboards and ads on radio and television.
In a statement posted on the TIFF Web site following the film's withdrawal, Festival Director Piers Handling and Co-Director Cameron Bailey wrote, "It is unfortunate that the producers of the film 'Heliopolis' have decided to withdraw their film in protest of this year's City to City programme [sic]."
Bailey and Handling asserted the festival, "stands by our choice of Tel Aviv as the inaugural focus for the City to City programme [sic] and we welcome the discussion that is being prompted by our series."
Mandour's protest is not the first controversy to hit Toronto's spotlight on Tel Aviv.
Prior to the start of the festival, a group of 50 intellectuals, artists and filmmakers issued a declaration against the program saying the festival had become "complicit in the Israeli propaganda machine."
The open letter, which was signed by public figures including Noam Chomsky, Danny Glover, Ken Loach and Naomi Klein, claimed festival organizers had fallen victim to lobbying by the Israeli government.
The signatories suggested it was the equivalent of celebrating South Africa under apartheid. Particularly, they wrote, in the absence of any Palestinian filmmakers in the line-up of films from Tel Aviv.
The letter asserted that in 2008 the Israeli government alongside Canadian media partners "launched 'Brand Israel'" — a million dollar media and advertising campaign aimed at changing Canadian perceptions of Israel.
"'Brand Israel' would take the focus off Israel's treatment of Palestinians and its aggressive wars, and refocus it on achievements in medicine, science and culture," said the letter.
One of the signatories, actress Jane Fonda, has since withdrawn her protest saying the declaration was "unnecessarily inflammatory," in a self-penned article in the Huffington Post.
Canadian documentary filmmaker John Greyson helped spark the protest when he pulled his film from the festival last month.
Israeli Consul Gissin was unavailable for comment. However, he responded to the criticism of Israel in an op-ed piece in Canadian national newspaper, the National Post.
"Ms. Klein, Mr. Greyson and their followers have ineffectively tried to establish veto privileges over any attempt to relate to Israel other then through the prism of the conflict," Gissin wrote.
He added that many other countries and cities over the past few decades have engaged in a process of "branding" to present an attractive image to the rest of the world.
"No other country was ever criticized for branding itself; but in Israel's case, branding is deemed a demonic exercise.
"This even though the Israeli government sponsors award-winning films with self-critical view points that often deal with the conflict that the critics claims we are trying to hide."
There have been counter protests by those who defend Israel, including an ad in U.S. film industry trade paper Variety. Titled "We Don't Need Another Blacklist," it was signed by more than one hundred Hollywood filmmakers, actors, writers, producers and executives.
The ad applauds the festival for including the Israeli films.
LINK: http://edition.cnn.com/2009/WORLD/meast/09/17/egypt.film.controversy.israel/
If you liked this article, please consider making a donation to Australians for Palestine by clicking on the PayPal link
Thank You.